Piano Competition Radovljica 2019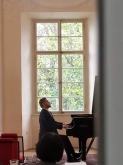 International piano competition Radovljica 2019
30 October - 3 November
FINAL RESULTS

JUNIOR CATEGORY, 30.10.2019
1. GLAVINIC, MATTIAS ANTONIO FIRST PRIZE Abs. Ex aequo (98,8)
2. BLEVE, CHIARA FIRST PRIZE Abs. Ex aequo (98,8)
3. POMPOSELLI, MATTEO FIRST PRIZE (98)
4. ZHURAVLEVA, MARIA FIRST PRIZE (96)
5. KOZYAK HANNA SECOND PRIZE (93,7)
6. MAZOR EDEN SECOND PRIZE (90)
7. GRIGORYAN PETRO THIRD PRIZE (87,4)
8. TOMIĆ MAGDALENA THIRD PRIZE (86,5)

YOUNG CATEGORY, 31.10.2019

1. WELLER MAX FIRST PRIZE Abs (98)
2. CERGOL TIM FIRST PRIZE (95)
3. PARK HYUN MIN SECOND PRIZE (93,8)
4. BREŽIĆ MINA THIRD PRIZE (89,8)
5. PROSI REJSI THIRD PRIZE (89,8)
6. NIKOLOVSKA ANGELA THIRD PRIZE (86,8)
MAJOR CATEGORY, 3.11.2019
First prize: "City of Radovljica", KOSTADIN TASHKO (Albania)
Second prize: "Filippo Trevisan", VERONIKA VOLOSHINA (Ukraine)
Third prize: "La Casa de Kamna", JOVANA KOSANOVIĆ (Serbia)
Special prize for the performance of the Ibero American piece, ALVIN ĆUĆIĆ (Croatia)
Special prize for the most promising pianist, IVA VUKOVIĆ (Serbia)
Special prize: the possibility to attend Piano Master Class in Radovljica, MATTEO POMPOSELLI (Italy), ANDRIJA JOVOVIĆ (Montenegro)
JURY
Teresa Trevisan (Italy)
Ruben Dalibaltayan (Armenia-Croatia)
Ayami Ikeba (Japan-Austria)
Daniel Rivera (Italy-Argentina)
Hinko Haas (Slovenia)
Opening concert 1st International Piano Competition of Radovljica
pianist Ruben Dalibaltayan
October 30th 2019 at 20.00, Baroque hall Radovljica, Linhartov trg 1.
Programme:
Komitas - R. Andreasyan: Garuna (Spring)
Komitas - G. Saradjian: Lullaby
Komitas - V. Sargsyan: Kakavi erge (Grouse song)
Komitas - G. Saradjian: Krunk (Crane)
F. Liszt: Sonata in B-minor
Final Concert and Award Ceremony in the Baroque hall Radovljica
3 November 2019 at 20.00
Programme:
Glavinic, Mattias Antonio (23. 07. 2009), Italy
Conservatorio di Musica Benedetto Marcello - Venice, Italy
F. Chopin Polonaise in G-sharp minor (Op.posth.)
Bleve, Chiara (20. 12. 2006), Italy
Music School "A. Corelli" - Vittorio Veneto, Italy
R. Muczynski Desperate measures Op. 48
Zhuravleva, Maria (03. 08. 2005), Russia
Dzerzhinsk Music School, Dzerzhinsk, Russia
E. Lecuona Malagueña
Weller, Max (21. 05. 2004), Austria
Kunstuniversität, Graz, Austria
E. Granados Allegro de Concierto Op. 46
Ćućić, Alvin (25. 09. 1996), Croatia
Academy of Music, Ljubljana, Slovenia
F. Mompou Paisajes: La fuente y la campana, El lago
Vuković, Iva (29. 03. 2000), Serbia
Faculty of Music in Belgrade, Serbia
F. Liszt La Campanella
Kosanović, Jovana (14. 11. 1997), Serbia
University of Music and Performing Arts, Graz, Austria
J. Rodrigo Seguidillas del Diablo from Cuatro Estampas Andaluzas
Voloshyna, Veronika (20. 11. 1995), Ukraine
University of Music Franz Liszt, Weimar, Germany
D. Shostakovich Prelude & Fugue in A major Op. 87
A. Ginastera Danza del gaucho matrero from Danzas Argentinas Op. 2 No. 3
Tashko, Kostandin (17. 12. 1997), Albania
Conservatorio di Musica Giuseppe Tartini, Trieste, Italy
M. Ravel La Valse
RUBEN DALIBALTAYAN was born in Yerevan, Armenia. After completing music school in the class of Anahit Shahbazyan, he moved to Moscow to pursue his musical education in the Gnesin Music Academy under the mentorship of professor Arthur Berngardt. Ruben obtained his Master's degree at the Moscow State Conservatory under the guidance of professor Valery Kastelsky. His professional and personal formation has been greatly influenced by a number of outstanding musicians such as Boris Berlin, Lazar Berman and Alexis Weissenberg, who gave Ruben his personal international prize in 2001. Winner of ten prestigious international piano competitions in Armenia, China, Croatia and Italy, Ruben quickly established himself in the international music scene, an accomplishment that didn't go unnoticed by prominent performers and critics alike. The prize awards he collected at the Second China International Piano Competition in Beijing (China), the Svetislav Stančić International Piano Competition in Zagreb (Croatia) and at the Aram Khachaturyan International Piano Competition in Yerevan (Armenia) expanded his recognition as an "intelligent and subtle pianist, whose performance always reveals something new and consistently interesting" according to Lazar Berman's testimony. Ruben's concert tours include numerous countries of Europe, Asia and America. The performances range from solo recitals and concerts with Symphony orchestras to participation in chamber ensembles – a piano duo with his wife Julia Gubajdullina and the well-known trio "Amadeus" to be mentioned. Ruben is an active member of the SONEMUS organisation (Sarajevo's Organisation for New Music). His repertoire encompasses music from baroque to present days. With more than 20 concerts in his program and a special emphasis on the Romantic period Ruben performs a wide range of musical works. In collaboration with the Croatian Radio he has recently recorded the entirety of the piano opus of the famous Croatian composer Blagoje Bersa. The pianist also gives special attention and dedication to the promotion of the works of Armenian composers, an interesting and original music inseparably linked to the culture of his native country. Ruben began his pedagogic activities at the Sarajevo Music academy in 2000 and has been serving since 2005 as a Professor of piano at the Zagreb University Music Academy. During the last ten years he raised a large number of young pianists who went on to become finalists and prize winners of more than 50 international competitions. These competitions include most notably the International Chopin Piano Competition in Warsaw, the Robert Schumann International Piano Competition in Zwickau, the Zhuhai International Mozart Piano Competition in Zhuhai, China, the Shura Cherkassky International Piano Competition in Milan, the International Piano Competition for Young Musicians in Enschede, Netherlands, etc. As part of his pedagogical work Ruben holds master classes and seminars on a regular basis in Croatia and abroad. He is also frequently invited to serve as a jury member at various international music competitions. His noteworthy projects include the founding of the piano summer school in Makarska (Croatia) in 2005, together with Julia Gubaidullina. The seaside piano master course has since evolved into one of the most prominent events for young pianists in the region.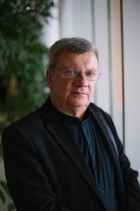 IN MEMORIAM
Prof. HINKO HAAS (1956 - 2020)
Ohranili ga bomo v večnem spominu
He will remain in our eternal memory
HINKO HAAS is considered to be one of the most prominent representatives of Slovene pianists.
He studied the piano at the Academy of Music in Ljubljana with Dubravka Tomšič – Srebotnjak, with Rudolf Kehrer in Weimar, Claude Copens in Brussels and with Carl Engel in Bern.
He recieved the Prešeren award of the Academy of Music, the Prešeren award of the University of Ljubljana and Julij Betetto award of Slovene Music Society.
As a soloist and member of numerous chamber groups he has collaborated with several soloists and ansambles (Les percusions de Strasbourg, Taipei Chamber Orchestra, Igor Ozim, Jerzy kosmala, Wolfgang Panhofer, Ana Pusar Jerič, piano duo with Aci Bertoncelj, Ljubljana Piano Trio, Trio Syringa, Pro Musica Nova Ensemble…) and given concerts in Slovenia, Austria, Italy, France, Germany, Norway, Swizerland, Belgium, Russia, Taiwan, USA, Croatia, Serbia and Montenegro, Bosnia and Herzegovina, Mazedonia and performed with Slovene and foreign orchestras and conductors. He has been a guest of Ljubljana International Summer festival, Ohrid Summer festival and World Music Days 2003.
Hinko Haas has recorded for radio and television companies in Slovenia and abroad. Publishing houses of RTV Slovenia, Helidon and Edizione pizzicato have issued his recording on 21 CD´s.
His repertoire includes solo and concert works of all style periods. Contemporary Slovene composers write for him. Hinko Haas has also devoted much of his time to chamber music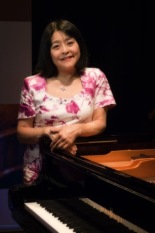 AYAMI IKEBA was born in Yokohama, Japan.
Studies: with Akiko Iguchi/Tokio, Ludwig Hoffmann/Munich, Karl-Heinz Kämmerling/Hannover, Regina Smendzianka/Warsow and Alfons Kontarsky/Salzburg
Graduation: Hochschule für Musik in Munich and Hannover.
She won at the age of 18 the 2. prize (1. prize not awarded) in the 29th "International Piano Competition "FerruccioBusoni" in Bolzano, Italy.
Ayami Ikeba played at international piano festivals like: "Festival Pianistioco Internazionale di Brescia e Bergamo", "Schleswig Holstein Festival", "Münchner Biennale", "Musik Triannale Köln" and "Festival Internacional de Inverno de Brasília".
Her activity as a recitalist and as a soloist in orchestral concerts has been led her to Japan (e.g. with NHK symphony orchetra, conducter: André Previn) , South Africa, Australian, Indian, China and to the most important European centers of classical music.
She has performed as Piano-Duo with Alfons Kontarsky at major international festivals in Italy, Germany and Swiss and played numerous chamber music concerts with eminent soloists such as Anne-Sophie Mutter.
Several radio recordings in Germany, Italy and Austria.
CD recordings on the period piano with works by Tyrol composers in Landesmuseum Innsbruck (Solo and 4 hands pieces with Prof. Marlies Nussbaumer).
For ten years she worked as a repetitor with Prof. Wolfgang Schneiderhan in international master class in Lucerne.
Since 1999 she is a professor in ordinary for piano and since 2011 haed of piano departement at the "Universität für Musik in Graz."
[download]

2.2 MB

Participants - Catalogue 2019